Hidden Expedition: Smithsonian Hope Diamond Walkthrough 6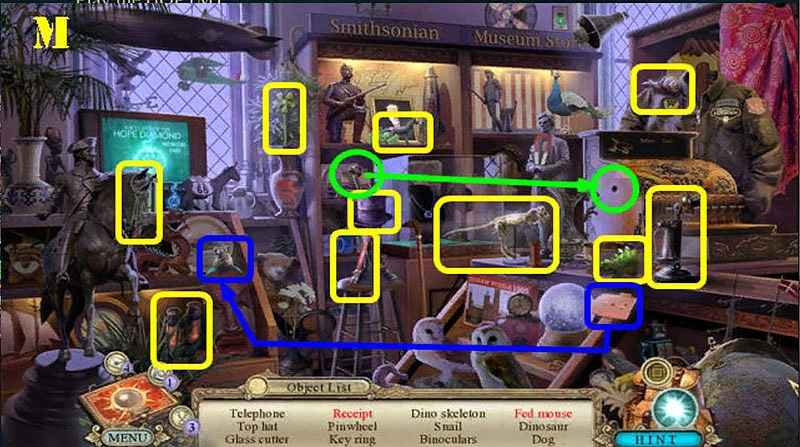 Follow our crystal clear walkthrough and helpful tricks to get you through the rough spots!
Click the button to download full walkthrough.
Play the HOP (M).
You receive the GLASS CUTTER.
Use the GLASS CUTTER on the glass; take the Note, BOBBLEHEAD 4/4 and SPYGLASS (N).
Open the box (O) and place the 4 BOBBLEHEADS in it to activate a puzzle.
Swap the bobbleheads as shown. Take the PENNY (P).
Return to the Castle foyer.
Place the FIRE CYLINDER (Q) and the PENNY (R) in the slots.
Pull the handle (S) to get the FIRE COIN.
Return to the Castle lobby.
Place the FIRE COIN in the slot (T); take the BATTERY 1/2, Note, and DOORKNOB (U).
Place the DOORKNOB on the door (V); use the SHOWCASE ROOM KEY in the lock (purple).
Go through the door.