Hidden Expedition: Smithsonian Hope Diamond Walkthrough 10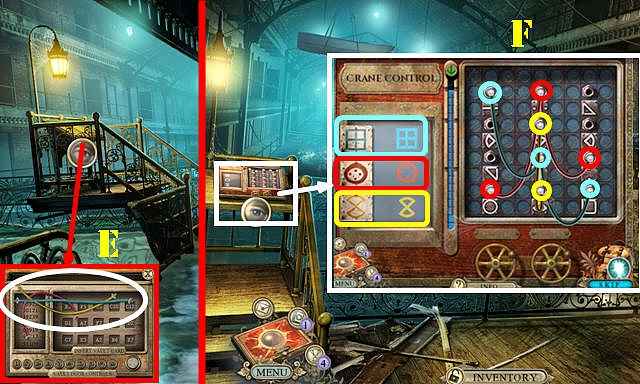 Follow our crystal clear walkthrough and helpful tricks to get you through the rough spots!
Click the button to download full walkthrough.
Take the WIRES (E).
Walk down.
Place the WIRES on the mechanism to activate a puzzle.
Place the wires in the correct sockets to form the images on the left. Solution (F).
Return to the Sewer hallway.
Play the HOP (G).
Take the HOOK (H).
Open the LONG STICK and attach the HOOK to it to acquire the LONG HOOK (I).
Walk down twice.
Use the LONG HOOK on the BOX (J) and then take it (K).
Open the BOX and cut the 3 ropes with the GLASS SHARD; take the BATTERY 2/2, SMITHSONIAN COIN, and the VAULT CARD (L).
Return to the Sewer hallway.