Haunted Legends: The Curse of Vox Walkthrough 15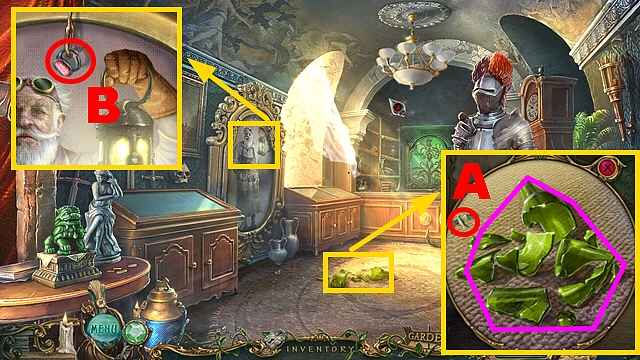 Follow our crystal clear walkthrough and helpful tricks to get you through the rough spots!
Click the button to download full walkthrough.
Zoom into the broken glass; take the ring (A) and collect the broken glass with the POUCH (purple) to acquire the BROKEN GLASS.
Zoom into the portrait; take the ring (B).
Play the HOP.
Take the hammer (C), destroy the vase with it, take the valve (D), put it onto the safe, and take the clock hands (E).
You will receive the CLOCK HANDS.
Walk down.
Zoom into the statue and connect the CLOCK HANDS to the clock (F); light the torch with the LIGHTER (G) and take the TORCH.
Walk down.
Zoom into the gate (H).
Access the necklace.