Haunted Hotel: Eclipse Walkthrough 8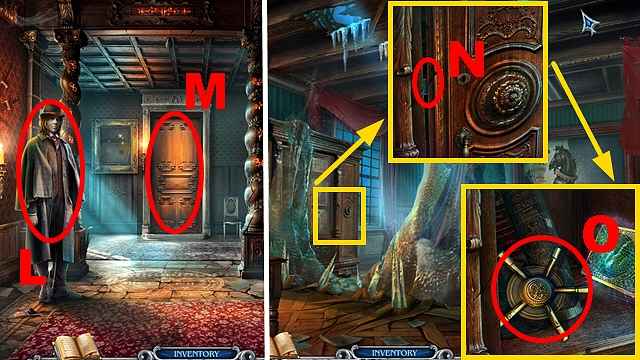 Follow our crystal clear walkthrough and helpful tricks to get you through the rough spots!
Click the button to download full walkthrough.
Give the MAGIC LAMP to the man (L).
Open the door (M).
Enter the Office.
Open the door with the DAGGER (N); take the SAFE KNOB (O).
Walk down.
Connect the SAFE KNOB to the safe (P) and turn the knob; take the BEAR'S HEAD MEDALLION (Q).
Go to the Werewolf's Room.
Insert the BEAR'S HEAD MEDALLION into the slot (R); take the PICTURE PIECE (S) and the FILE (T).
Saw the grating with the FILE (U); send the FLUTTERFIRE into the flames (V) to acquire the TUNING FORK.
Go to the Office.
Break the ice with the TUNING FORK (W).
Talk to the man (X).