Haunted Hotel: Eclipse Walkthrough 4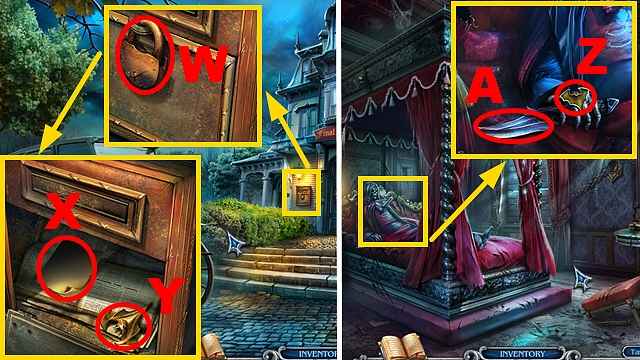 Follow our crystal clear walkthrough and helpful tricks to get you through the rough spots!
Click the button to download full walkthrough.
Pour the ACID over the padlock (W) and remove the padlock; take the SHEET OF PAPER (X) and the GOLDEN BAT (Y).
Move forward three times.
Insert the GOLDEN BAT into the niche (Z); take the DAGGER (A).
Walk down three times.
Cut the vines with the DAGGER (B); take the GRAY ORDER COAT OF ARMS (C).
Move forward.
Insert the TWILIGHT BROTHERS COAT OF ARMS and the GRAY ORDER COAT OF ARMS into the slots (D).
Play the mini-game.
Solution part 1: (E).
Solution part 2: (F).
Take the RUBY FLOWER (G).
Move forward twice.