Haunted Hotel: Eclipse Walkthrough 3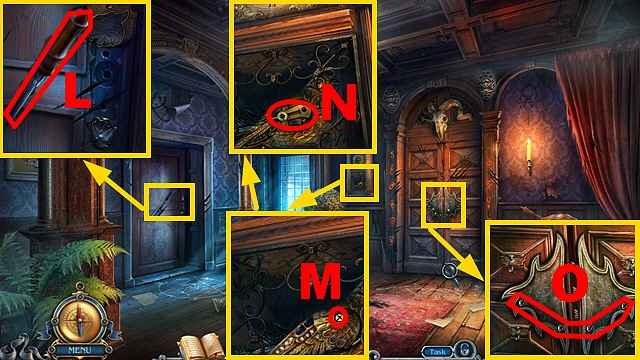 Follow our crystal clear walkthrough and helpful tricks to get you through the rough spots!
Click the button to download full walkthrough.
Take the SCREWDRIVER (L).
Remove the screw with the SCREWDRIVER (M); take the DETAIL (N).
Collect the SCREWS with the SCREWDRIVER (O).
Walk down.
Insert the SCREWDRIVER into the detail (P); take the DETAIL.
Move forward.
Put the 2 DETAILS into the mechanism (Q); insert the SCREWS into the mechanism and fix them with the SCREWDRIVER.
Enter the Vampire's Room.
Take the CLOTH (R); look at the vampire (S).
Take the TWILIGHT BROTHERS COAT OF ARMS (T) and the ACID (U); clean the box with the CLOTH (purple) to get the code '3179'.
Talk to the man (V); you receive the COPPER SKULL.
Walk down three times.