Haunted Hotel: Eclipse Walkthrough 13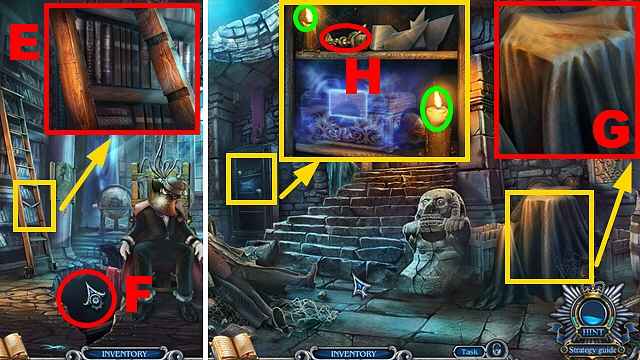 Follow our crystal clear walkthrough and helpful tricks to get you through the rough spots!
Click the button to download full walkthrough.
Remove the broken rung, connect the BOARDS and the 4 NAILS to the ladder (E), and hit the nails with the HAMMER; take the LADDER.
Put the LADDER into the crack (F).
Go down the ladder.
Remove the blanket (G).
Light the candles with the FLUTTERFIRE (green); take the BOWL OF HYGEIA (H).
Go to the Office.
Insert the BOWL OF HYGEIA into the slot (I); take the SPIRITS OF AMMONIA (J).
Go to the Secret Hallway.
Hold the SPIRITS OF AMMONIA next to the man (K).
Talk to the man (L); you receive the KEY.
Go up.
Insert the KEY into the lock (M) and turn it; take the GLUE (blue) and the GLOVES (green).
Go to the Secret Hallway.
Collect the MIRROR SHARDS with the GLOVES (N).
Go to the Hallway.