Haunted Halls: Nightmare Dwellers Walkthrough 16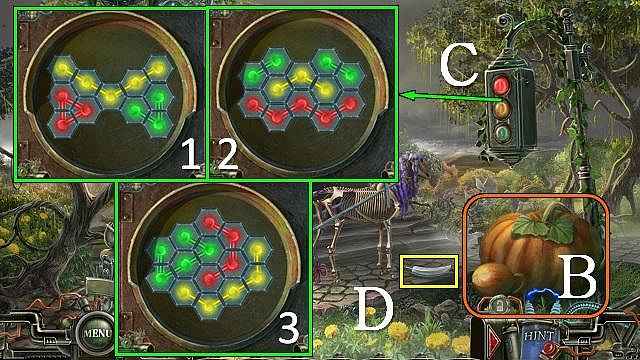 Follow our crystal clear walkthrough and helpful tricks to get you through the rough spots!
Click the button to download full walkthrough.
Use the FERTILIZER on the pumpkin (B).
Play the mini-game in the traffic light (C).
Move the tiles to create complete circuits of each color.
Take STONE FEATHER 2/3 (D).
Zoom into the pond.
Take STONE FEATHER 3/3 (E).
COMB the horse's hair and take the FORK (F).
Take the HEART KEY (G).
Put the STONE FEATHERS on the statue (H); take WEIGHT and ARM (I).
Back out.
Put the WEIGHT on the carpet; take the LIGHTER (J).
Walk forward.