Haunted Halls: Nightmare Dwellers Walkthrough 15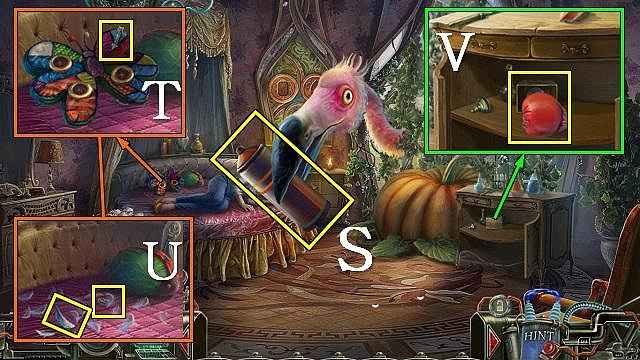 Follow our crystal clear walkthrough and helpful tricks to get you through the rough spots!
Click the button to download full walkthrough.
Take the SPRAY PAINT (S).
Take the ARROW (T); put the BUTTON on the pillow and take the BOXING MEDAL and STONE FEATHER 1/3 (U).
Put the BOXING MEDAL on the box and take the PUNCHER (V).
Go to the Kitchen.
Put the PENGUIN STENCIL on the fridge and spray it with the SPRAY PAINT (W); take the CARNELIAN (X).
Go to the Bedroom.
Put the EMERALD and CARNELIAN on the mirror (Y); use the PUNCHER to take a MIRROR PIECE (Z).
Walk forward through the mirror (A).