Grim Tales: Bloody Mary Walkthrough 16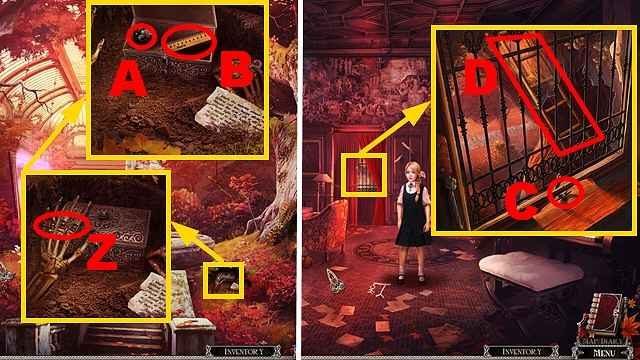 Follow our crystal clear walkthrough and helpful tricks to get you through the rough spots!
Click the button to download full walkthrough.
Zoom into the ground and put the 4 RINGS on the hand (Z); take the IMP AMULET (A) and the RULER (B).
Go to the Recital Hall.
Zoom into the window and open it with the RULER (C); take the LADDER (D).
Go to the Second Floor.
Put the LADDER next to the debris (E).
Go up the ladder to the Third Floor.
Zoom into the table; take the POT (F).
Zoom into the wall; remove the broken bulb (G) and put the BULB in its place.
Enter the Gym.
Take the BRUSH (H).
Zoom into the cabinet; take the TOY MOUSE (I).
Walk down.
Insert the TOY MOUSE into the mouse trap (J), take the MOUSE TRAP, and take the 1/2 ANGEL AMULET (K).
Go to the Mirrored Hall.