Flights of Fancy: Two Doves Walkthrough 9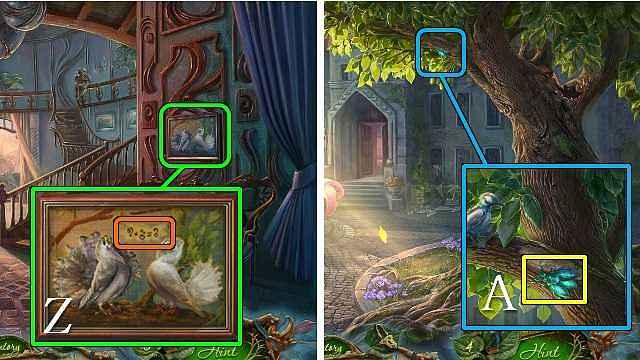 Follow our crystal clear walkthrough and helpful tricks to get you through the rough spots!
Click the button to download full walkthrough.
Use the BRUSH on the painting to reveal a code (Z).
Walk down.
Use the MECHANICAL WOODPECKER on the tree to get BUG 1/7 (A).
Go to the Parlor.
Use the LETTER OPENER on the painting; take the SYMBOL (B).
Put the SYMBOL on the clock and find the last symbol according to the code; take the PUMP (C).
Go to the Goblin House.
Put the BUTTONS on the painting; take Charmed Kingdom Inhabitant 5/15, put the PUMP on the bottle and take the POTION OF VISIBILITY (D).
Turn the pages of the book and use the POTION OF VISIBILITY on the last one (E).