Flights of Fancy: Two Doves Walkthrough 6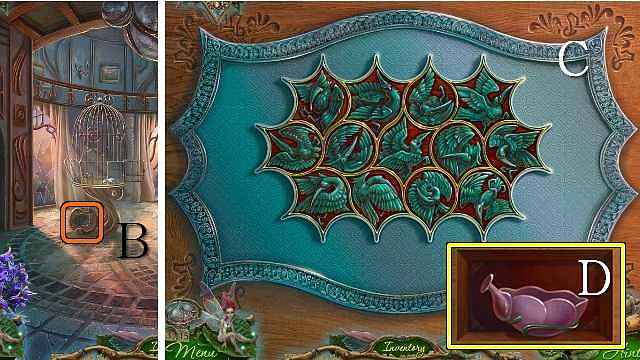 Follow our crystal clear walkthrough and helpful tricks to get you through the rough spots!
Click the button to download full walkthrough.
Put the DOVE PUZZLE PIECES on the cage (B) for a mini-game.
Put the puzzle pieces in the correct place (C).
Take the WATERING CAN (D).
Walk down.
Talk to the Artist and give him the PENCIL; take the WOLF (E).
Cut the cobwebs with the SHARP LETTER; open the lantern with the WOLF and take the Wolf Spell (F).
Use the WATERING CAN on the plant; take GEM 2/2 and the WATER (G).
Go to the Parlor.
Put the AMULET MOUNT and GEMS on the box (H); take the LIGHT CATCHER (I).
Go to the Fountain.