Flights of Fancy: Two Doves Walkthrough 4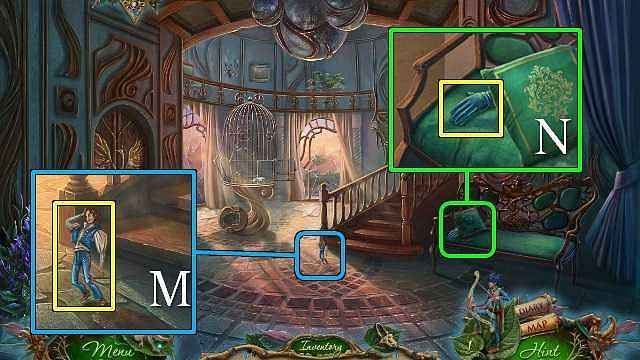 Follow our crystal clear walkthrough and helpful tricks to get you through the rough spots!
Click the button to download full walkthrough.
Talk to Gregory; pick up Charmed Kingdom Inhabitant 1/15 (M).
Take the GLOVE (N).
Take the WING (O).
Take BUTTON 1/2 (P).
Walk down.
Take the AMULET MOUNT with the GLOVE (Q).
Put the WING on the flask; take the ANTI-MAGIC POTION and Charmed Kingdom Inhabitant 2/15 (R).
Walk forward.
Use the ANTI-MAGIC POTION on the phoenix (S); go to the Parlor.
Talk to Krastian.
Take the PUZZLE PIECE (T).
Turn the pages of the book and take the AMULET (U).
Walk right to the Fountain.