Flights of Fancy: Two Doves Walkthrough 3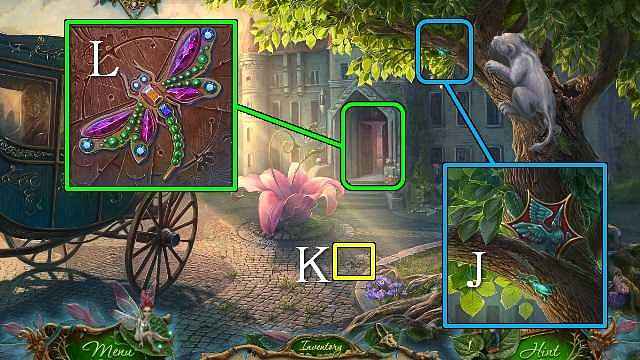 Follow our crystal clear walkthrough and helpful tricks to get you through the rough spots!
Click the button to download full walkthrough.
Talk to William (A).
Talk to the fairy (B) and take the BOX KEY (C).
Name your fairy.
Take the BRACELET (D); put the BOX KEY on the box and pick it up (E).
Put the BRACELET on the lion cub's chain (F).
Release the elf, talk to him and name him (G).
Take the LION CUB (H) and DRAGONFLY (I).
Have the LION CUB retrieve the puzzle piece (J); pick up DOVE PUZZLE PIECE 1/2 (K).
Put the DRAGONFLY on the door (L) and go in.