Flights of Fancy: Two Doves Walkthrough 18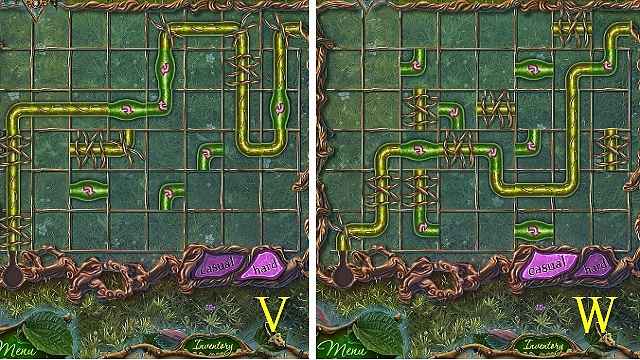 Follow our crystal clear walkthrough and helpful tricks to get you through the rough spots!
Click the button to download full walkthrough.
Connect the pipes from bottom left to top right.
Casual (V) and hard (W) solutions are shown.
You receive GROWTH STIMULATOR.
Walk forward.
Put the HORN WITH WATER and GROWTH STIMULATOR on the seedling; take the SYMBOL (X), put the HELMET on the flower and take BUG 3/7 (Y).
Release your fairy on the reeds (Z).
Walk forward to the Catacombs.
Look through the door (A).
Take the FISH (B).
Open the hatch with the HAMMER (C).