Flights of Fancy: Two Doves Walkthrough 16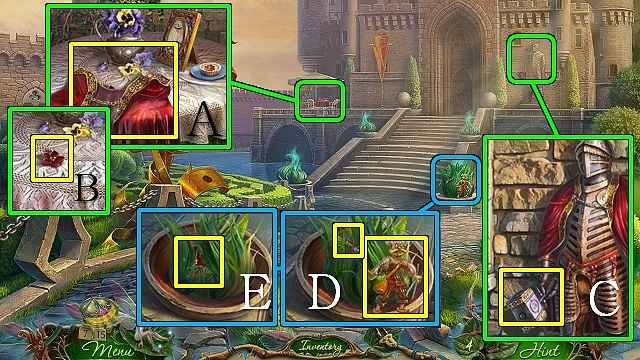 Follow our crystal clear walkthrough and helpful tricks to get you through the rough spots!
Click the button to download full walkthrough.
Put the CLASP on the cloak and take the CLOAK (A); take the FLOWER (B).
Put the CLOAK on the suit of armor; take the HAMMER (C).
Take figurine 9/15 and catch the ANT with the GOBLET (D); move the grass and take the FLOWER (E).
Go to the Tower Doors.
Take APPLE 1/3 with the WEDGE and HAMMER (F).
Go to the Tower Room.
Put the two FLOWERS on the tree and take the SNAKE and APPLE 2/3 (G).
Take the SUN (H).
Go to the Castle Garden.
Put the SUN on the petal for a mini-game.
Play as before (I).
Take APPLE 3/3 (J).
Put the APPLES on the door and go in.