Final Cut: Homage Walkthrough 7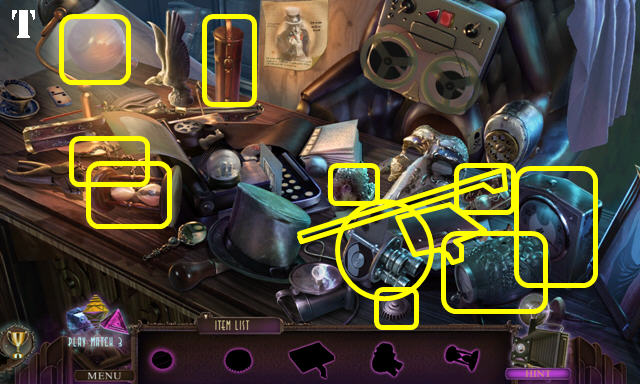 Follow our crystal clear walkthrough and helpful tricks to get you through the rough spots!
Click the button to download full walkthrough.
Play the HOPs (T, U).
You receive the JUKEBOX TOKEN.
Walk down.
Place the ICE PICK on the drawer and then use the PAPERWEIGHT on it; take the GAS CAN (V).
Go to the Recreation room.
Place the JUKEBOX BUTTON (W) and JUKEBOX TOKEN (X).
Press the button; take the GOLDEN RECORD (green).
Return to the Study.
Remove the record. Place the GOLDEN RECORD and NEEDLE on the phonograph.
Use the buttons (Y) to move the needle left and right without hitting any of the grooves. Win once you get to the diamond (Z).
Take the NOZZLE (Z1).
Return to the Foyer deck.