Final Cut: Homage Walkthrough 6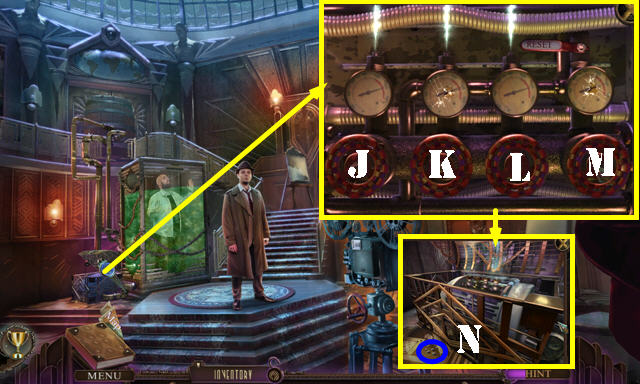 Follow our crystal clear walkthrough and helpful tricks to get you through the rough spots!
Click the button to download full walkthrough.
Place the VALVE HANDLE for a puzzle.
Solution: J, K, L, M, J, L, M.
Take the STEEL PELLETS (N).
Place the FLINTLOCK, SCOOP OF GUNPOWDER, and STEEL PELLETS in the FLINTLOCK PISTOL (inventory).
Use the FLINTLOCK PISTOL on the barrel (O).
Touch the barrel; enter the Study.
Open the box for a HOP.
Take the PAPERWEIGHT (P) and ICEPICK (Q).
Place the WICK on the lantern and use the MATCHES on it. Place the STAINED GLASS on the lantern (R).
Open the book; take the JUKEBOX BUTTON (S).