Final Cut: Homage Walkthrough 5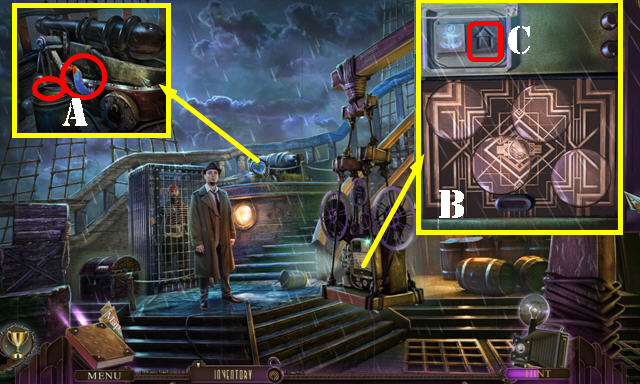 Follow our crystal clear walkthrough and helpful tricks to get you through the rough spots!
Click the button to download full walkthrough.
Give the CRACKERS to the parrot; take the FEATHER (A).
Place the 2 DISCS for a mini-game.
Solution (B). Press the button to reach the Foyer (C).
Take the SCOOP and NEEDLE (D).
Grab the INKWELL and MATCHES (E).
Return to the Foyer deck (F).
Put down the INKWELL and FEATHER for a puzzle.
Solution: Ex2, Nx3, Ex3, Sx4.
Use the SCOOP to get the SCOOP OF GUNPOWDER (G).
Change the symbols (H).
Take the STAINED GLASS and VALVE HANDLE (I).
Return to the Foyer.