Fierce Tales: Marcus' Memory Walkthrough 14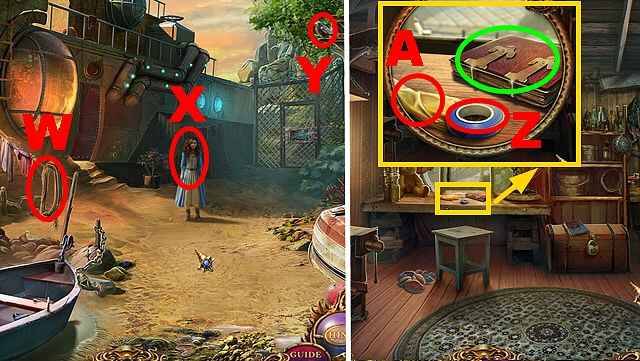 Follow our crystal clear walkthrough and helpful tricks to get you through the rough spots!
Click the button to download full walkthrough.
Take the ROPE (W).
Talk to the girl (X) and chase away the crow (Y).
Turn left.
Zoom into the table; take the TAPE (Z), the GLOVE (A), and read the book (green).
Walk down.
Zoom into the gate; remove the wire with the GLOVE (B) and take the HORSESHOE (C).
Return to the Ship House.
Zoom into the left table and put down the HORSESHOE and the ROPE; take the GRAPPLING HOOK (D).
Walk down.
Zoom into the tree; throw the GRAPPLING HOOK at the branch (E).
Play the HOP.