Fearful Tales: Hansel and Gretel Walkthrough 7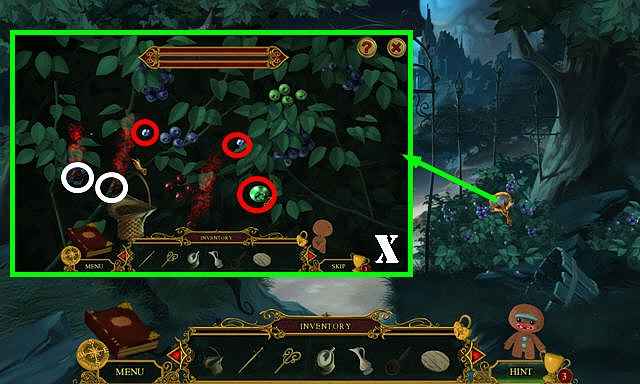 Follow our crystal clear walkthrough and helpful tricks to get you through the rough spots!
Click the button to download full walkthrough.
Use the WICKER BASKET on the blueberries to activate a mini-game (X).
Use the basket to collect the fresh berries (red); avoid the spoiled ones (white).
You receive the BLUEBERRIES.
Walk down twice.
Use the JUG in the fountain to receive the JUG OF WATER (Y).
Return to the Inn's Kitchen.
Take the recipe (Z).
Put down the SACK OF FLOUR, BLUEBERRIES, and JUG OF WATER (yellow).
Touch the flour and then the jug of water. Touch the spoon (purple) and then the mix.
Touch the blueberries and then touch the pie twice. Take the PIE (green).
Walk down.
Give the PIE to the cook and take the LADY'S ROOM KEY (A).
Go to the Inn's Second Floor (B).
Use the LAMP KEY on the lamp (C) to activate a HOP.