Fear For Sale: Phantom Tide Walkthrough 6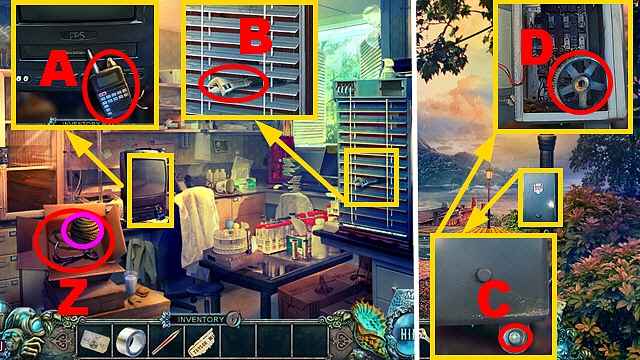 Follow our crystal clear walkthrough and helpful tricks to get you through the rough spots!
Click the button to download full walkthrough.
Open the crate; place the ROPE (purple).
Take the GRAPPLING HOOK (Z).
Take the BROKEN RADIO (A) and ADJUSTABLE WRENCH (B).
Walk down.
Use the ADJUSTABLE WRENCH (C); open the box.
Take the GEAR (D).
Turn left.
Place the GEAR (E); take the VIDEO CASSETTE (F).
Place the VIDEO CASSETTE (G); use the PENCIL (purple).
Push the video cassette.
Take the LEVER (H).
Walk down.
Place the LEVER (I); pull it.
Turn right.
Use the shell (J) and GRAPPLING HOOK (K).
Remove the debris; take the SHELL FRAGMENT (L).
Take the MECHANISM (M).
Walk down, turn left.