Fear For Sale: Phantom Tide Walkthrough 3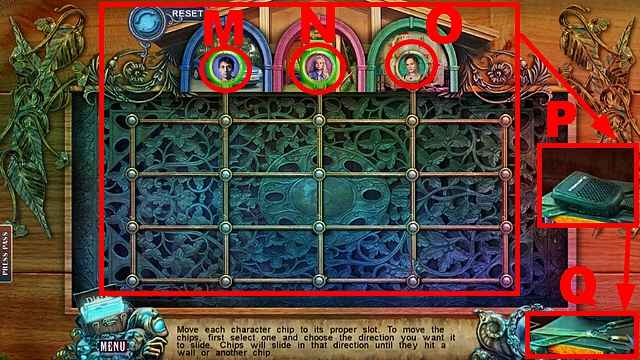 Follow our crystal clear walkthrough and helpful tricks to get you through the rough spots!
Click the button to download full walkthrough.
Play the mini-game.
Solution: M-right, N-up, M-left, M-up, O-down, N-down, N-right, N-up, O-up.
Use the radio (P); take the PRUNERS (Q).
Walk down twice.
Use the PRUNERS (R); touch the panel (S).
Open the box; take the BOUQUET (T).
Turn left twice.
Place the BOUQUET (U).
Play the HOP.
You receive the CORN (V).
Use the CORN (W); take the MINIATURE DAM MODEL (X).
Walk down.
Place the FAMILY PHOTO, DOLPHIN, and MINIATURE DAM MODEL (Y).
Take the shell (Z).
Open the door; use the FLASHLIGHT (A).
Turn the switch (purple).
Go downstairs.