European Mystery: The Face of Envy Walkthrough 11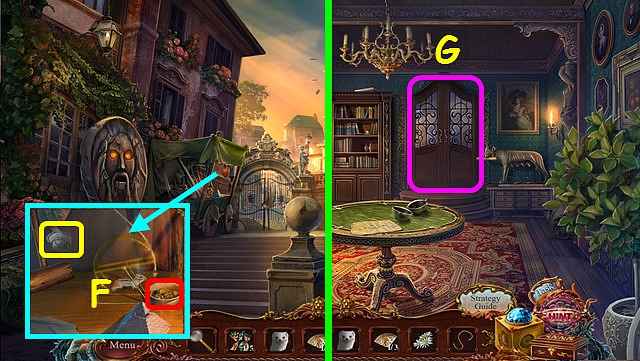 Follow our crystal clear walkthrough and helpful tricks to get you through the rough spots!
Click the button to download full walkthrough.
Use the ERMINE to take the 2/3 CHEF'S HAT (C).
Use the MALLET on the shells; take the NUT (D).
Read the instructions (E).
Walk down twice to the Spanish Steps.
Place the NUT in the bowl; take the 3/3 CHEF'S HAT (F).
Return to Bruno's House.
Walk forward to Bruno's Bedroom (G).
Read the scroll and take the MEDICINE RECIPE (H).
Return to Corsa Street.
Place the 3 CHEF'S HATS on the bakers (I).
Walk right to the Bakery.