Death At Cape Porto: A Dana Knightstone Novel Walkthrough 11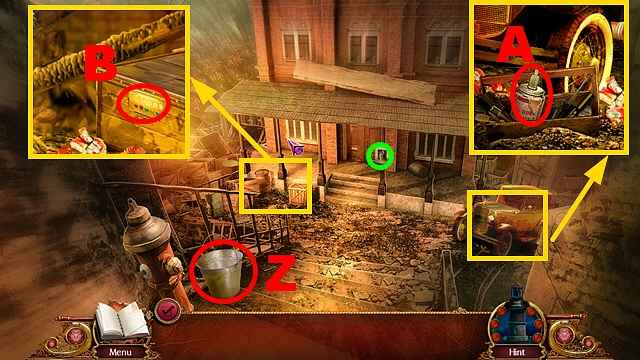 Follow our crystal clear walkthrough and helpful tricks to get you through the rough spots!
Click the button to download full walkthrough.
Take a look at the photo (green).
Take the BUCKET (Z).
Take the CEMENT GLUE (A).
Play the mini-game (B).
Enter the correct name (C) by pressing the buttons (D).
This puzzle is randomized; keep in mind that some buttons change more than one letter.
Take the WRENCH (purple) and the TROWEL (blue).
Put down the BUCKET (H) and collect the VALVE with the WRENCH (I); put the sand into the bucket with the TROWEL (J) to acquire the BUCKET WITH SAND.
Pour the BUCKET WITH SAND over the hose (K) and patch up the hose with the CEMENT GLUE; take the HOSE.
Connect the HOSE (L) and the VALVE (M) to the hydrant; tighten the hose and the valve with the WRENCH and turn the valve.
Play the mini-game.