Dark Tales: Edgar Allen Poe's The Fall of the House of Usher Walkthrough 4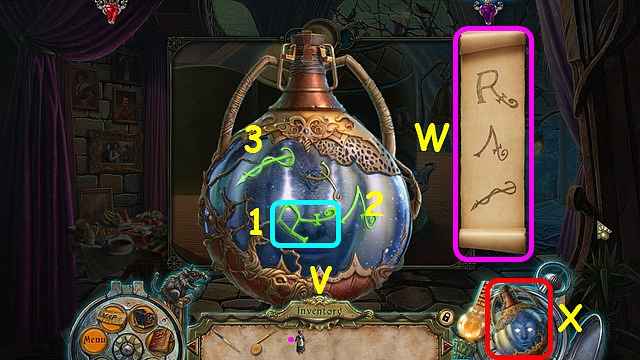 Follow our crystal clear walkthrough and helpful tricks to get you through the rough spots!
Click the button to download full walkthrough.
Place the FEATURE SYMBOL on the bottle (V).
Place the SCROLL on the bottle (W).
Press the symbols in order (1-3).
The REBORN ONE will be on your menu bar (X).
Walk down.
Use the REBORN ONE on the dog (A).
Take the PUZZLE PIECE (B).
Walk forward.
Use the REBORN ONE on the tree (C).
Use the NOISEMAKER on the ravens; take the 1/3 FEATHER (D).
Walk to the right.