Dark Sisterhood: The Initiation Walkthrough 2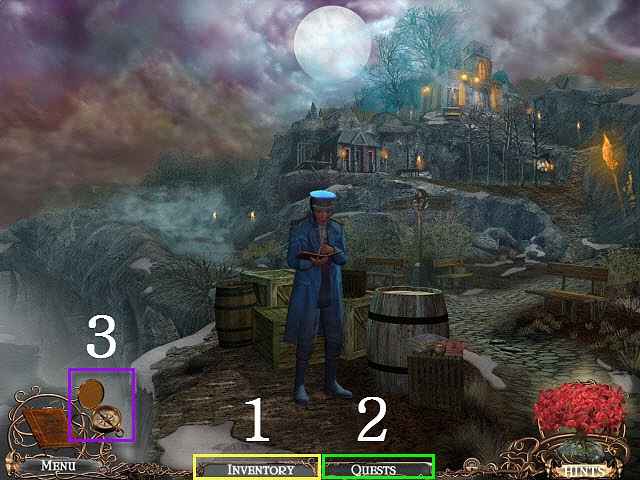 Follow our crystal clear walkthrough and helpful tricks to get you through the rough spots!
Click the button to download full walkthrough.
This is the Official Guide for Dark Sisterhood: The Initiation.
We will use the acronym HOP for Hidden-object puzzles. Interactive items will be color-coded and some will be numbered; please follow the numbers in sequence.
This guide will not mention each time you have to zoom into a location; the screenshots will show each zoom scene.
The HOP lists may be random; our lists may vary from yours.
There are two difficulty levels: Regular and Advanced.
The Inventory items are stored here (1).
You may view your current Quests here (2).
Use the compass to travel to a location (3).
Talk to the man (A).
Examine the crate; take the BAG OF SALT (B).
Walk forward to the Crossroads.
Pick up the LADDER (C).
Walk left to the Courthouse; walk down and right to the Church Plaza.
Place the LADDER with the cross; examine the cross (D).
Use the BAG OF SALT on the ice (E).
Take the SCREWDRIVER (F).
Return to the Courthouse.