Dark Dimensions: Somber Song Walkthrough 6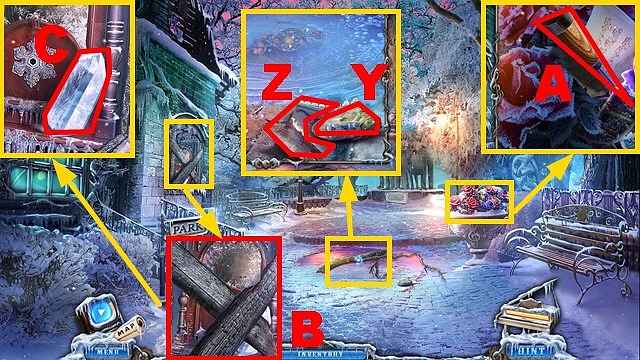 Follow our crystal clear walkthrough and helpful tricks to get you through the rough spots!
Click the button to download full walkthrough.
Take the STONE (Y) and POSTER FRAGMENT (Z).
Take the ICE PICK (A).
Remove the boards (B); use the ICE PICK (C).
Put the key (D) into the lock (green).
Remove the lid; take the STONE SHEET MUSIC (E).
Walk down.
Place 3 POSTER FRAGMENTS (F).
Read the newspaper (G); take the ANTIFREEZE (H).
Throw the STONE (I).
Play the HOP.
Use the oven mitt (green) on the tray (white).
Place the bun (purple) on the bowl (dark blue).
Place the feather (J) in the inkwell (K); write with it on the paper (L).
Insert the coin (light blue) into the slot (orange).
Push the buttons '0025' (M).
Use the tape (N) to repair the handle (O).
Take the FISH NET (P).
Move to the School Entrance.