Dark Dimensions: Somber Song Walkthrough 12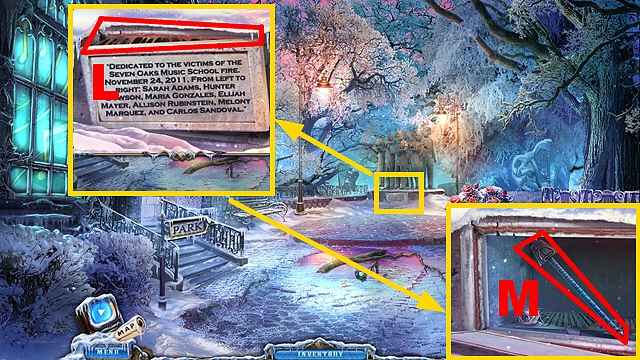 Follow our crystal clear walkthrough and helpful tricks to get you through the rough spots!
Click the button to download full walkthrough.
Use the KNIFE (L); take the METRONOME PART (M).
Walk down.
Play the HOP.
Take the stone (N).
Use the burner (O) on the grating (P).
Use the fork (green) to pull the nail (orange).
Dip the brush (light blue) into the oil (purple).
Oil the bolt (Q) with the brush.
Insert the nail (orange) into the slot (yellow).
Remove the shards (R) with the towel (S).
Take PIANO KEY 2/3 (T).
Go to the Piano Classroom.
Place the METRONOME PART (U).
Arrange the tiles correctly (V).
Take TILE 2/3 (W).
Go to the Back Hallway.