Dark Cases: The Blood Ruby Walkthrough 8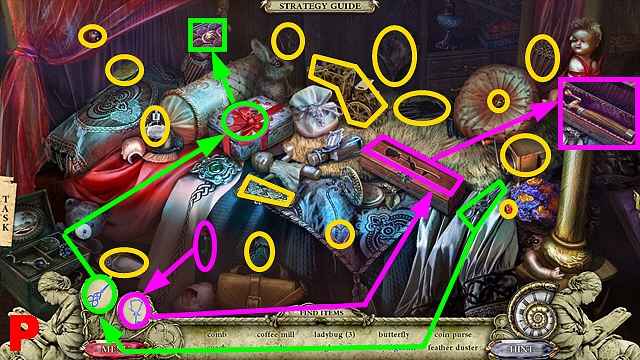 Follow our crystal clear walkthrough and helpful tricks to get you through the rough spots!
Click the button to download full walkthrough.
Play the HOP.
You receive the WOMAN FIGURINE and the FEATHER DUSTER (P).
Go to the Basement.
Remove the cobwebs with the FEATHER DUSTER (Q).
Insert the correct key (blue) of the KEY RING into the lock (R); take the HEADLESS FIGURINE (S), the CROWBAR (T), and read the newspaper (green).
Go to the Attic.
Remove the nails with the CROWBAR four times (U); put down the WOMAN FIGURINE (V) and the HEADLESS FIGURINE (W).
Take the CRANK (X) and the METAL SNAKE (Y).
Go to the Kitchen.
Insert the METAL SNAKE into the niche (Z); take the GLASS CUTTER (A).
Go to the Guest Room.