Dark Cases: The Blood Ruby Walkthrough 6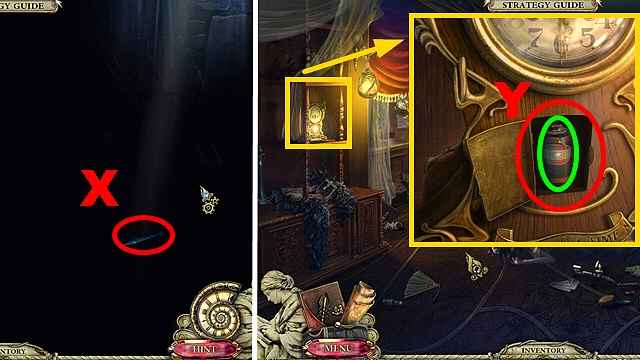 Follow our crystal clear walkthrough and helpful tricks to get you through the rough spots!
Click the button to download full walkthrough.
Take the LETTER OPENER (X).
Go to the Guest Room.
Open the compartment with the LETTER OPENER (Y); take the BATTERY (green).
Combine the FLASHLIGHT WITHOUT A BATTERY and the BATTERY to receive the WORKING FLASHLIGHT.
Go to the BASEMENT.
Use the WORKING FLASHLIGHT to insert the LIGHTBULB into the lamp (Z); push the handle (A).
Take the GLUE (B); take the RECORD PIECE (C).
Take the GREEN STONE (D).
Walk down twice.
Insert the GREEN STONE into the amulet (E); take the STAR AMULET (F).
Go to the Boudoir.
Insert the STAR AMULET into the niche (G); take the SCOOP (H).
Go to the Basement.