Dark Cases: The Blood Ruby Walkthrough 20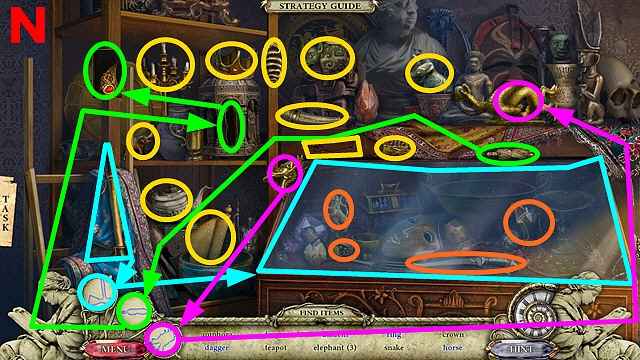 Follow our crystal clear walkthrough and helpful tricks to get you through the rough spots!
Click the button to download full walkthrough.
Play the HOP.
You receive the GOLD DIADEM and the HERALDIC LION (N).
Go to the Atelier.
Insert the STAMP into the niche (O); take the HOTELIER KEY (P).
Go to the Hotel.
Insert the HERALDIC BEAR and HERALDIC LION into the slots (Q); take the UNCHARGED SHOTGUN (R).
Insert the HOTELIER KEY into the lock (S).
Play the mini-game.
To solve this puzzle, find pairs framed in the same color.
Take the FAN SEGMENT (T).
Walk down twice.