Dark Cases: The Blood Ruby Walkthrough 17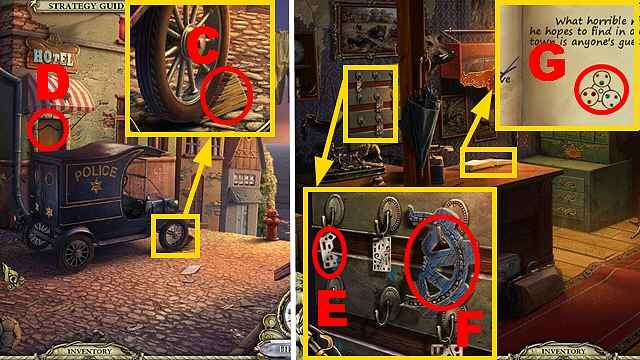 Follow our crystal clear walkthrough and helpful tricks to get you through the rough spots!
Click the button to download full walkthrough.
Hit the wedge with the MALLET (C).
Open the door (D).
Go through the door.
Take the HALF OF KEY (E) and the WHEEL FRAGMENT (F).
Combine the 2 WHEEL FRAGMENTS to receive the WHEEL.
Make note of the code (G).
Go to the Watermill.
Insert the WHEEL into the niche (H); take BALL 4/4 (I) and SHOTGUN SHELL 1/2 (J).
Connect the CRYPTIC MACHINE HANDLE to the device (K); turn the handle.
Solution: Lx2, M, Nx4, Ox5, Px3.
Take the HERALDIC BEAR (Q).
Go to the Town Outskirts.
Insert the 4 BALLS into the slot (R); take the BASS-RELIEF FRAGMENT (S) and the HORSE (T).
Walk down.
Insert the HORSE into the niche (U); take the RULER (V).
Go to the Eastern Street.