Dark Cases: The Blood Ruby Walkthrough 15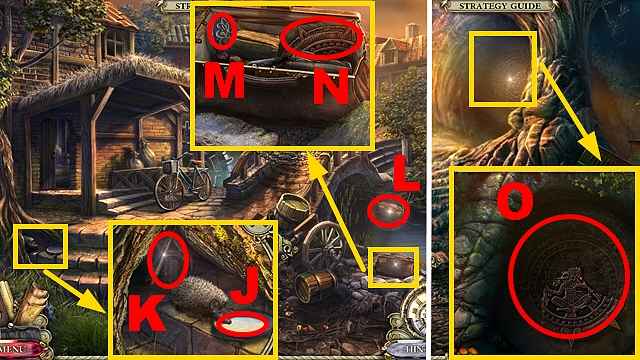 Follow our crystal clear walkthrough and helpful tricks to get you through the rough spots!
Click the button to download full walkthrough.
Pour the MILK BOTTLE into the bowl (J); take the GAFF HOOK (K).
Combine the GAFF HOOK and the STAFF to receive the GAFF.
Pull in the bag with the GAFF (L); open the bag.
Take BRIDGE SEAL 4/5 (M); take the PATTERN FRAGMENT (N).
Walk down twice.
Insert the 3 PATTERN FRAGMENTS into the niche (O).
Enter the cave.
Take BRIDGE SEAL 5/5 (P).
Go to the Bridge.
Insert the 5 BRIDGE SEALS into the slots (Q).
Go across the bridge.
Take BALL 2/4 (R).
Enter the Atelier.
Take the AMBER (S), DIME 1/5 (T), and the CRYPTIC MACHINE HANDLE (U).
Read the note (blue); take COPPER TRUMPET 1/2 (V).
Walk down and move forward to the Central Square.