Dark Canvas: Blood and Stone Walkthrough 4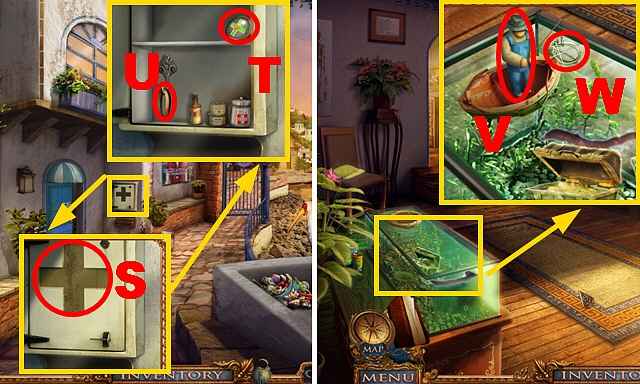 Follow our crystal clear walkthrough and helpful tricks to get you through the rough spots!
Click the button to download full walkthrough.
Insert the MEDICAL SYMBOL into the niche (S); take the MEDICAL TOKEN (T) and ELASTIC BAND 1/2 (U).
Turn left.
Put down the FISHERMAN TOY (V); take the DIAMOND RING (W).
Move forward.
Cut the glass jar with the DIAMOND RING (X); take the SCALPEL (green).
Cut open the Diploma with the SCALPEL (Y); put down the MEDICAL and the DEVICE TOKEN (Z).
Play the mini-game.
Solution: 6, 5, 4, 1, 2, 7, 6, 1, 2, 7, 1, 3, 2, 7, 1.
Open the folder (A); take the SCULPTOR'S PHOTO (B) and the LION EMBLEM (C).
Walk down twice.