Dark Canvas: Blood and Stone Walkthrough 3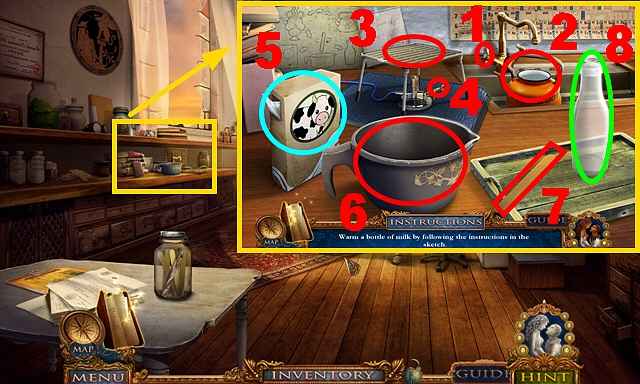 Follow our crystal clear walkthrough and helpful tricks to get you through the rough spots!
Click the button to download full walkthrough.
Put down the BOTTLE (green) and the POWDERED MILK MIX (blue).
Solution: 1, 2, 3, 4, 5, 6, 2, 6, 7, 6, 6, 8.
Take the WARM MILK.
Walk down.
Open the can with the WIND UP KEY; take the FISH (K).
Pour the WARM MILK into the bowl (L); take the KITTY (M).
Walk down.
Take the note (N).
Send the KITTY to the flowers (O).
Take the MEDICAL SYMBOL (P).
Give the FISH to the stork (Q).
Play the HOP.
You receive the FISHERMAN TOY (R).