Dark Canvas: Blood and Stone Walkthrough 13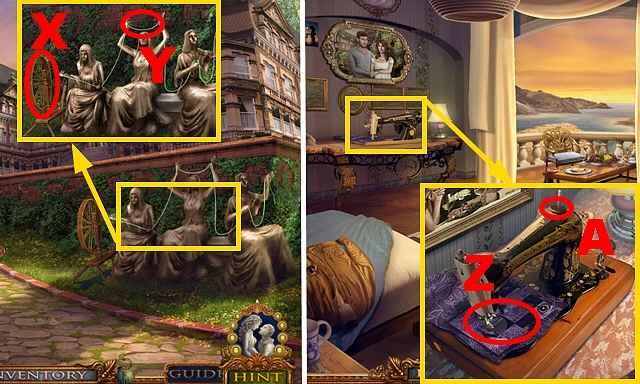 Follow our crystal clear walkthrough and helpful tricks to get you through the rough spots!
Click the button to download full walkthrough.
Connect the SPINNING WHEEL to the device (X); hold the MEASURING ROD next to the thread (Y) to receive the THREAD.
Move forward twice.
Put down the 4 FABRICS (Z); insert the THREAD into the machine (A).
Play the mini-game.
Solution: (B).
Take the BLANKET (C).
Walk down twice.
Give the BLANKET to the kittens (D); take the DATE PHOTO (E) and the JEWELRY POLISH (F).
Move forward.
Pour the JEWELRY POLISH into the bowl (G); put the UNPOLISHED RING into the bowl to acquire the SIGNET RING.
Move forward.