Dangerous Games: Prisoners Of Destiny Walkthrough 3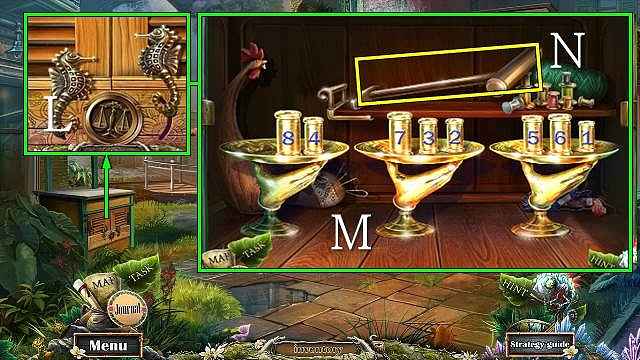 Follow our crystal clear walkthrough and helpful tricks to get you through the rough spots!
Click the button to download full walkthrough.
Put the SCALE SYMBOL on the lock for a mini-game (L).
Place the weights so the scales drop down to the red line; a scale with enough weight on it will light up.
You can't place more than three weights on each scale (M).
Take the SEWER KEY (N).
Remove the VALVE with the WRENCH (O).
Open the manhole with the SEWER KEY; put the VALVE on the pipes and turn it (P).
Go right.
Talk to Simon; take the EMPTY GEL TIMER (Q).
Put the EMPTY GEL TIMER under the dispenser, put the BAG OF GEL in it and pull the handle; put the lid on the timer to receive the GEL TIMER (R).
Give the GEL TIMER to Simon.