Clockwork Tales: Of Glass and Ink Walkthrough 6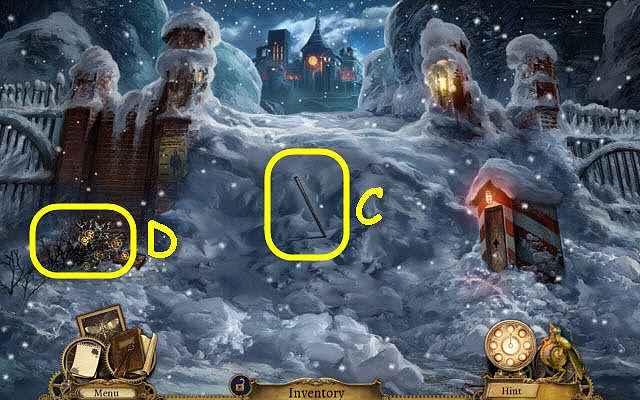 Follow our crystal clear walkthrough and helpful tricks to get you through the rough spots!
Click the button to download full walkthrough.
Take the IRON ROD (C).
Examine the brambles to access a HOP (D).
Play the HOP.
Find and use the items in the order marked.
You will receive the WIRE CUTTERS (E).
Back out.
Examine the shovel head and place the IRON ROD on it; take the SNOW SHOVEL (F).
Open the panel and pull the lever (G).
Go forward.
Use the SNOW SHOVEL on the shack and zoom into the door. Use the MECHANICAL LOCK PICK on it and remove the lock (H).
Examine the opened shack; take the LIQUOR LICENSE (I).
Use the WIRE CUTTERS on the wire and remove it. Open the lid; take the SOLDIER'S TROUSERS (J).
Back out and go up the right.