Christmas Stories: A Christmas Carol Walkthrough 4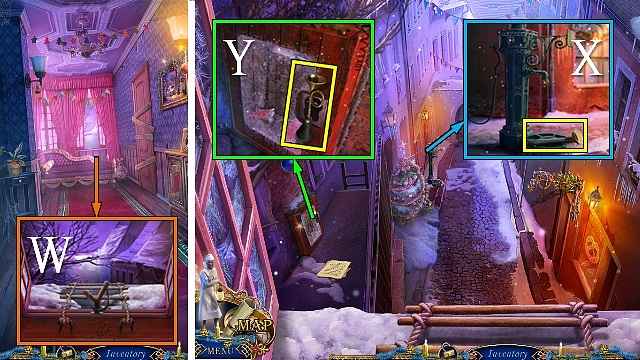 Follow our crystal clear walkthrough and helpful tricks to get you through the rough spots!
Click the button to download full walkthrough.
Put the ROPE LADDER on the window (W).
Walk forward.
Take the SPOUT (X).
Take the HORN (Y).
Go to the Hall.
Take the BIRDCAGE ORNAMENT with the POKER; put the SPOUT on the watering can and take the EMPTY WATERING CAN (Z).
Go to the Nursery.
Pout the BIRDCAGE ORNAMENT on the birdcage; use Scrooge to revive the bird (A) and take the ANIMATED BIRD (B).
Go to the Hall.
Use the ANIMATED BIRD to retrieve the SCROOGE AMULET (C).
Go to the Nursery.
Open the box with the SCROOGE AMULET (D); take the PUPPET (E).
Put the PUPPET on the puppet theatre and make all three puppets dance in turn for a series of mini-games (F).