Christmas Stories: A Christmas Carol Walkthrough 3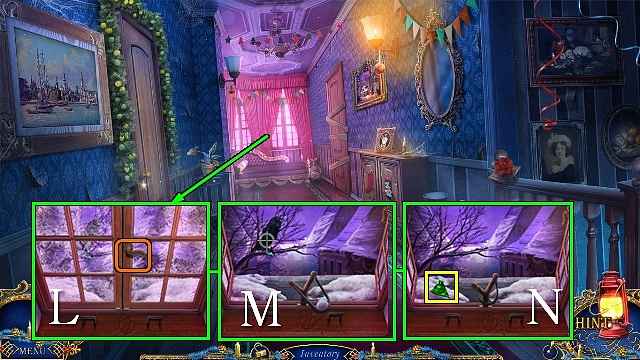 Follow our crystal clear walkthrough and helpful tricks to get you through the rough spots!
Click the button to download full walkthrough.
Open the window with the WINDOW HANDLE (L), put the SLING on the slingshot and shoot the raven (M); take the HEART HALF (N).
Take the POUCH (O).
Use the + on the pouch to access it; open the pouch and restore the medallion using the pieces from the pouch and the two HEART HALVES (P).
You receive the HEART AMULET (Q).
Walk down.
Look at Scrooge's medallion, put the HEART AMULET on it and open it (R); you receive the NURSERY KEY.
Go upstairs.
Open the door with the NURSERY KEY (S).
Go into the Nursery.
Take the ROPE LADDER (T).
Take the POKER (U).
Take the FEATHER (V).
Walk down.