Christmas Stories: A Christmas Carol Walkthrough 15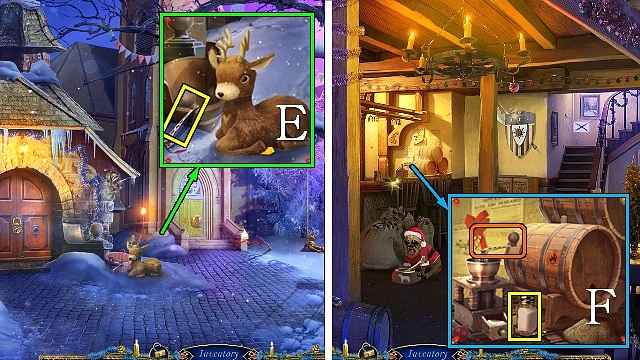 Follow our crystal clear walkthrough and helpful tricks to get you through the rough spots!
Click the button to download full walkthrough.
Take the SALT MILL HANDLE (E).
Go to the Tavern.
Put the SALT MILL HANDLE on the grinder and grind; fill the shaker with salt and take the SALT (F).
Go to the Schoolyard.
Give the SALT to the deer and take the FEATHER (G).
Go to the Square.
Put the FEATHER on the dove and select blue, red, and yellow; take the OIL CAN (H).
Go to the Schoolyard.
Oil the lock with the OIL CAN and turn the key (I); take the HAY and the LOCK PART (J).
Stuff the toy with HAY and have Scrooge revive him; take the ANIMATED CAT (K).
Go to the Square.