Christmas Stories: A Christmas Carol Walkthrough 14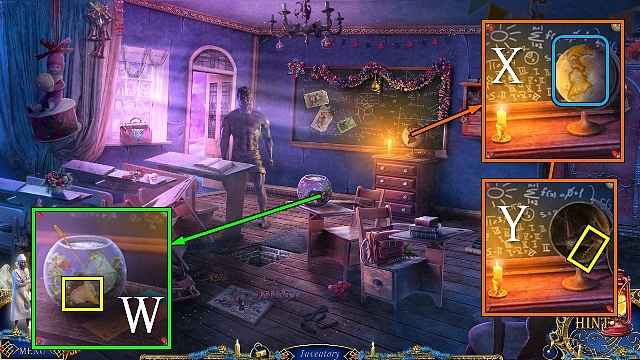 Follow our crystal clear walkthrough and helpful tricks to get you through the rough spots!
Click the button to download full walkthrough.
Take the second CONTINENT with the NET (W).
Put both CONTINENTS on the globe (X); take the CORKSCREW (Y).
Go to the Tavern.
Remove the cork with the CORKSCREW (Z); fill the HORN with gunpowder and take the HORN WITH GUNPWDER (A
Go to the School.
Access the DISASSEMBLED CATAPULT and put the WHEEL on it; open the ball and fill it from the HORN WITH GUNPOWDER (B).
Close the ball and load the catapult, have Scrooge revive the Viking and give the Viking the MATCHES (C).
You receive a VIKING WITH A BOMB.
Shoot the statue (D) with the VIKING WITH A BOMB.
Walk forward.