Christmas Stories: A Christmas Carol Walkthrough 10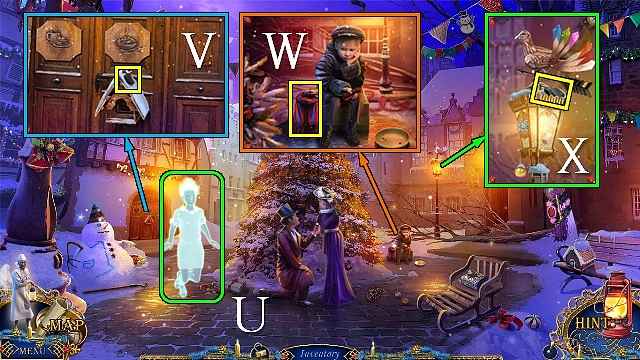 Follow our crystal clear walkthrough and helpful tricks to get you through the rough spots!
Click the button to download full walkthrough.
Talk to the Ghost (U).
Take the COALS 1/2 (V).
Take the SCARF (W).
Take COALS 2/2 (X).
Take the PIPE WITHOUT HOLES (Y).
Put the SCARF and COALS on the snowman; take the ROASTED CHICKEN and YOKE (Z).
Put the ROASTED CHICKEN on the door and swap signs 1 and 2, then 2 and 3 (A).
Go into the Tavern.
Take the MALLET (B).
Walk down.
Break the street lamp with the MALLET and take the MATCHES (C).
Go left.