Cadenza: Music, Betrayal and Death Walkthrough 5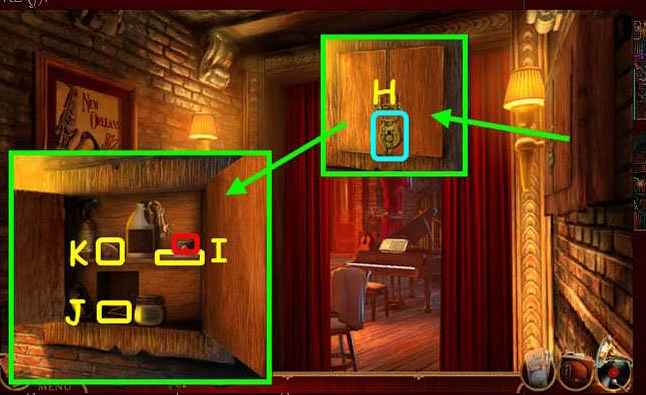 Follow our crystal clear walkthrough and helpful tricks to get you through the rough spots!
Click the button to download full walkthrough.
- Use DADDY'S RING on tlie lock; open the cabinet floors (H).
- Talee the POCKET KNIFE and press the red button (l).
-Take the WIRE ()).
- Move the bottles; take the BROKEN HANDLE (K).
- Look at the POCKET KNIFE; press the button to open it.
- Look at the WIRE; bend it twice to make the WIRE HOOK.
- Walk/orward.
- Turn the handle (L).
- Use the WIRE HOOK on the opening; take the HANDLE PART (M).
- Look at the BROKEN HANDLE; add the HANDLE PART to it to make the NOTE HANDLE.
- Note the stairs to Daddy's Ojjlce (N).
- Use the NOTE HANDLE to open the door; enter the Backstage (0).
- Open the curtain, touch the photo 6 times, remove the photo piece, and take the 2/2 METAL NOTES (P).
- Place the FLEUR-DE-LIS MEDALLION in the lock, open the box and take the 1/2 ORNAMENT PIECE (0).
- Select the box again to reveal the aquarium mini-game.
- Select the saxophone case (R).