Awakening: The Sunhook Spire Walkthrough 12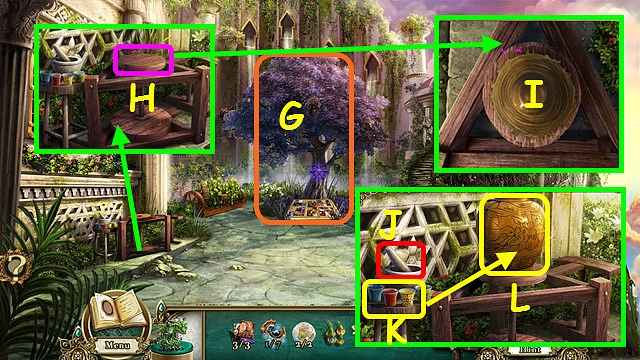 Follow our crystal clear walkthrough and helpful tricks to get you through the rough spots!
Click the button to download full walkthrough.
Note the Tree (G).
Look at the wheel (H); place the CLAY POWDER and a WATER SPHERE on the circle.
Move the wheel back and forth until you return to the full view. (I).
Place the BERRIES in the mortar (J). Take the DYE (K).
Use the DYE on the vase (L).
Color the sections of the vase, using the symbols as a guide (M).
Use the blue dye on see the wave symbols, and use the red dye on the fire symbols.
Use the green dye on the leaf symbols, and the yellow dye on the sun symbols.
Take the VASE and look at the Vases on the right.
Place the VASE in the space (N).
Place the vase fragments on the center vase (O).
Use the WATER SPHERE on the wilted flowers (P).
Take the NECTAR, DAWNLIGHT FLOWER, and 2/7 CORE PIECE (Q).
Look at the tree.