Apothecarium: The Renaissance of Evil Walkthrough 4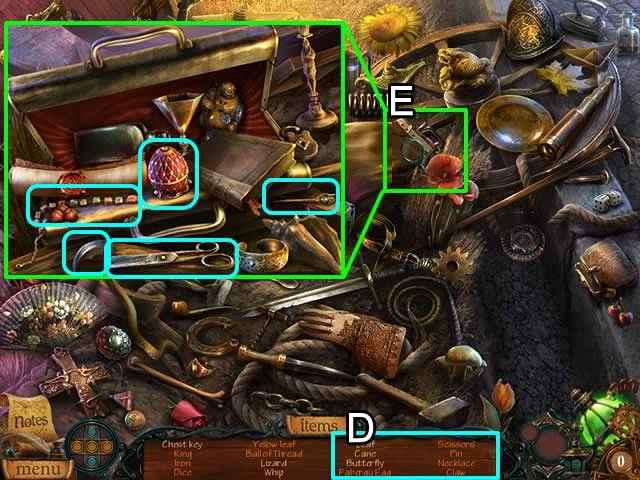 Follow our crystal clear walkthrough and helpful tricks to get you through the rough spots!
Click the button to download full walkthrough.
Speak to the girl (A) to receive story information and to activate this scene.
? Remove the cloth covering the body (B) to trigger a Hidden Object Scene (HOS) on the left.
? A HOS is indicated by rising bubbles (C).
? Play the HOS.
? Objects highlighted in orange and located at the end of the item list (D) indicate an extra step must be taken to find them.
? Open the clasp on the satchel (E) and look closer at the contents.
? Please note: the list of items for each HOS is random. Your list may not agree with the screenshot.
Looking closely at the scene reveals some objects changing (morphing) into different objects (F).
? Morphing objects are randomly generated as list items. A morphing item is listed in orange.
? Because of the random nature of each HOS, only zoom locations, morphing objects and inventory items are highlighted in these scenes. Morphing items are highlighted in red. Inventory items are circled in white with a blue border and CAPITALIZED in this strategy guide.
? The CHEST KEY (G) goes to inventory after all items are found.
? Use the Hint machine (H) to help locate list items.
? An alternate way to eliminate list objects is to play a match 3 game.