Apothecarium: The Renaissance of Evil Walkthrough 2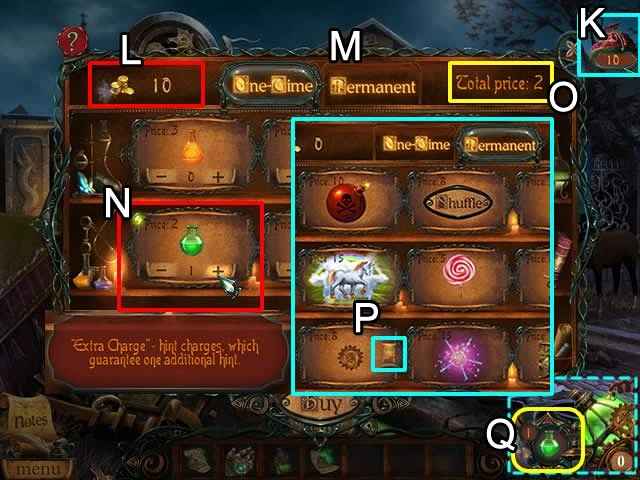 Follow our crystal clear walkthrough and helpful tricks to get you through the rough spots!
Click the button to download full walkthrough.
This is the official guide for Apothecarium: The Renaissance of Evil.
? Click Play (A) to open the door and begin or continue the main quest.
? Select Welcome (B) to add, change or delete player profiles. Set a difficulty level that suits your style of play: Casual, Adventure or Challenge. The level may be changed during play by selecting the Menu tab in the lower left corner of a scene and selecting Mode.
? Select Options (C) to adjust the Music, Voice and Sound Effects Volume. You may also select or de-select Full Screen and Custom Cursor.
? Select Puzzles (D) to replay unlocked mini-games, hidden object scenes or surprise chests.
? Open the Store (E) to use collected coins to buy upgrades for game play.
? View Achievements (F) awarded during the game.
Apothecarium: The Renaissance of Evil
? Open Notes (H) during the game and select the Map tab in the Diary tab to open an interactive map.
? An exclamation mark on an unlocked location indicates a task can be accomplished. Click the location to go directly to it.
? If a building location has multiple rooms, the cursor changes to a magnifying glass (I). Click to open a room map (dashed red). Click the image associated with a room (yellow) to enter that particular room.
? The Estate tab (J) is a second map for an underground area that is used after completing all of the above-ground locations.
? Main locations mentioned in this guide are the same as those shown on the map.
? Notes also provides Diary information and Tasks status. The Puzzles tab allows replay of unlocked hidden object scenes, mini-games and chest puzzles. The Achievements tab in Notes opens the trophy room.