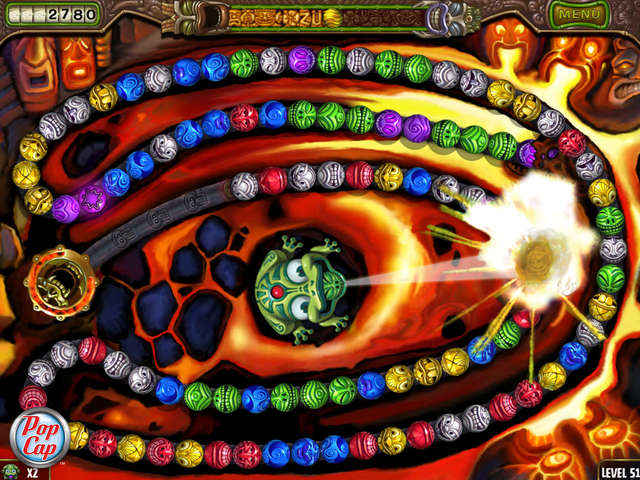 Zuma's Revenge!(TM)
: Take a shot at the all-new excitement of Zuma's Revenge!â"¢, the smashing sequel to one of the biggest hits of all time! The little stone frog idol is adrift on the ocean and soon lands on a mysterious island where fierce Tiki bosses rule.
Survive the fury of the island and the Tikis in this exciting continuation of the frog's adventures by shooting colorful stone spheres to destroy a never-ending stream of balls in over 60 levels of intense action! Jump into all-new challenges in the Jungle of Mystery, Quiet Village, Lost City and Mosquito Coast.
Slide and hop to different locations for an extra advantage; Score explosive power-ups including three new shots like the Tri-Shot and Laser; Guide your agile amphibian to victory in four invigorating game modes including Heroic Frog mode! Can you overcome the perilous pitfalls and win this ball-blasting challenge? Critics state Zuma's Revenge!â"¢ will "suck you in just like the previous games" and "provide many hours of ball-bursting fun".
See for yourself when you play Zuma's Revenge!â"¢ free with the demo version or download the full version today!
Zuma's Revenge!(TM) Walkthrough
.
Zuma's Revenge!(TM) System requirements:
* OS: Windows 7 / Vista / XP,
* CPU: Pentium 3 1.0 GHz or Higher,
* Memory: 256 MB

(FREE trial version)